The Art of School Boarding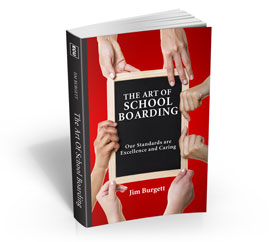 Order the paperbook
Order the e-book
The Art of School Boarding: How to Excel Where Excellence and Caring Must be the Standards
"All things considered, school governance is either the driving force or primary obstacle for the advancement of a school district. Jim Burgett masterfully describes it as the Art of School Boarding and goes to great lengths to lay out the requisite responsibilities of an exemplary board member. This very understandable book provides excellent insights for any person that is or works with a school board member." – Brent Clark, Executive Director, Illinois Association of School Administrators
This book is for anyone who sits at the school board table—rookies, seasoned veterans, superintendents, and administrators. For the newly elected, it should be their first assignment before they accept appointment—even better, before they seek election!
Being a school board member is not a political position nor one of royalty. It's not the most highly esteemed office in the world. But it is a pure act of public service and nobility. No pay, tough issues, lots of controversy, and the future of your community and society in your hands. You'll be asked to deal with tough decisions, finance, law, mandates, curriculum, athletics, the fine arts…
"School Boarding" is much more an art than a science. Boards have their own purpose, means, personality, process, and protocol. So these pages discuss the basics of boardsmanship, the foundational principles of school governance, and the role of the board, the board members, and the administration. It explains ethical expectations and Codes of Conduct, how to handle community concerns, your involvement with finances and curriculum, and building relationships. It also includes dozens of case studies from top K-12 leaders and board participants.
Jim Burgett's fifth K-12 book, The Art of School Boarding, is a straightforward, common sense, jargon-free book that tells what present or future board mem­bers must know. Why would school boarders seek this responsible yoke? Just ask them, why are they still on the school board. "There's nothing else I'd rather do…" is what you usually hear. This book tells why.